Mountain Dew
Creative Asset Collections | Product Vision
Mountain Dew and the Joester Loria Group tapped StyleWorks Creative to develop four theme art collections for a new line of consumer products. Inspired by contemporary trends in licensing, each group included a customized logo as well as composed designs, product examples, and suggestions for finishing techniques.
Drop Into Charged Neon
Based on a recent redesign of their bottle, our Charged Neon theme art captured all the kinetic energy of the Mountain Dew brand, with an emphasis on angled perspectives and dynamic movement.
The collection also made use of Mountain Dew's signature shards, rails, and clusters.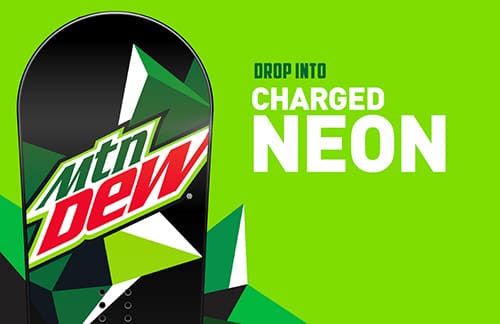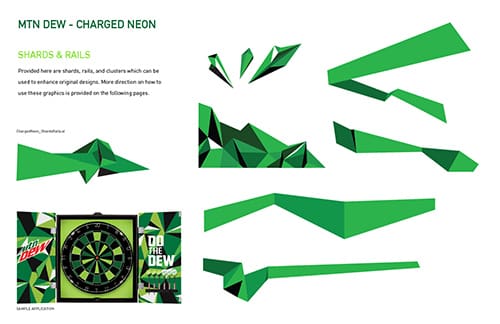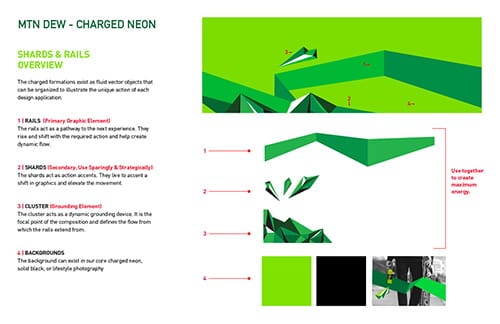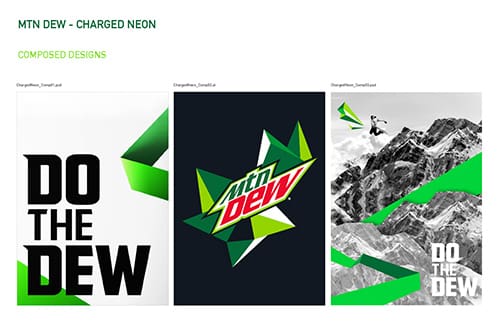 Make Your Mark
With expanded colorways rooted in the authentic Mountain Dew palette, this expressive collection boasted painterly patterns and graffiti-inspired flourishes, blending fine art with street art for a fresh, new look that could be applied to a wide variety of product.
Newfound Freedom
Tapping into Mountain Dew's spirit of adventure, we provided an outdoor collection that turned landscapes and cityscapes into a Dew drinker's paradise.
The collection was defined by its use of modified nature photography and custom camouflage prints.
Always Up for What's Next
With gamers in mind, we showed that Mountain Dew can light up more than just your taste buds. Alongside our composed designs, this collection included an array of intersecting neon lines and geometric shapes.
With our Mountain Dew project complete, we soon found ourselves providing creative assets for Pepsi.