Pepsi
Creative Asset Collection | Product Vision
In our first brand licensing design project for Pepsi, we worked alongside the Joester Loria Group to develop two trend and theme art collections. While the first collection brought the spirit of Pepsi to the world of summer music festivals, the second celebrated Pepsi's impact on popular culture through the years.
Pepsi Festival Fashion
Going back to Michael Jackson in the 1980s, Pepsi has always been a touchpoint for music, fashion, and pop culture.
These days, pop culture takes its cues from annual summer music festivals like Coachella, so it's only fitting that Pepsi would find inspiration in the crowd.
Original Artwork for Brand Licensing Design
In keeping with current trends in the music scene, we developed custom hand-lettered and hand-illustrated fonts for each of our original composed designs.
A bold yet playful aesthetic allows each of them to instantly capture your attention.
Pepsi Flashback
Our second theme art collection was a natural extension of the Pepsi Generations campaign, which showcased Pepsi's most iconic branding elements through the years.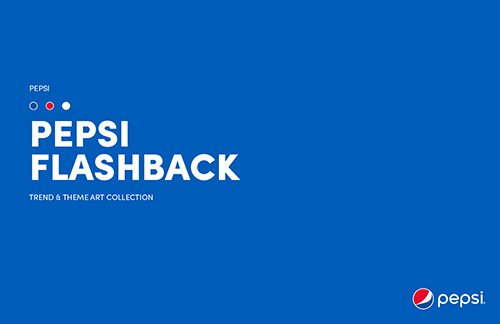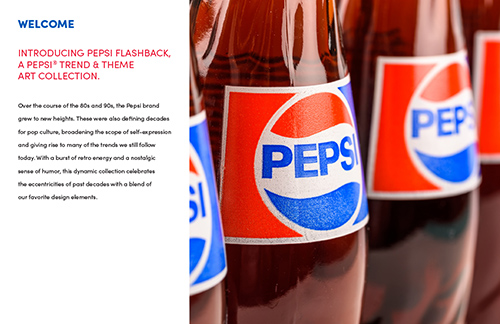 Creation and Curation
In addition to creating new composed designs and patterns, we also helped JLG curate existing Pepsi brand licensing design assets into a single collection. This provided licensees with one destination for all their retro needs.
The process of compiling past Pepsi assets gave us a chance to further immerse ourselves in the brand, raising the bar while providing inspiration for our own original artwork.
Extending the Artwork
Each theme art collection ended with its own Extending the Artwork section, in which we provided licensees with tutorials on how to best re-imagine the composed designs for various applications.
This project followed a prior batch of theme art collections for Mountain Dew.
For more on what our branding and brand extension design agency provides, visit our Services page.