Corona
Creative Asset Collections | Product Vision
Working with the Joester Loria Group, StyleWorks developed a consumer product licensing art supplement for Corona. The project included five trend-based theme art collections, each exploring and celebrating a different aspect of the versatile brand.
Corona Heritage
The Corona Heritage collection finds inspiration for consumer product licensing in traditional Mexican art and contemporary Mexican street art.
The trend exudes rich colors and complex patterns, for which we provided custom illustrations and hand lettering to create a more natural feel.
Corona Beach Life
Corona Beach Life promotes the breezy attitude and laid-back persona that comes with life on the coast.
As rustic signage encourages you to "Find Your Beach," photo-real graphics and collages conjure images of the Mexican coastline, including sunsets, palm trees, and breaking waves.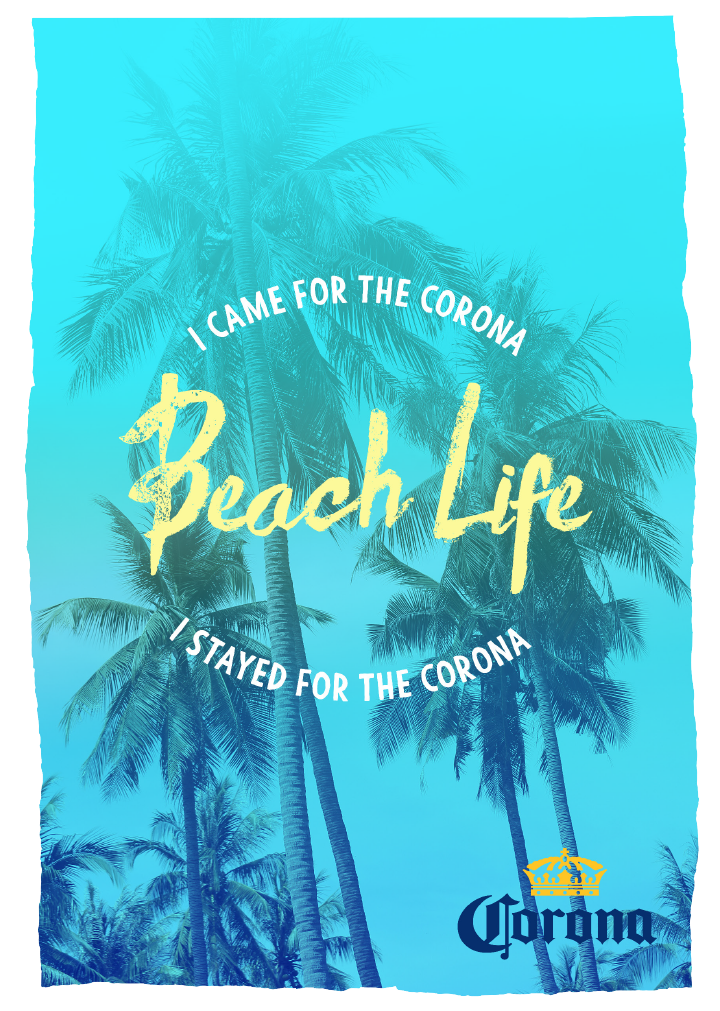 Corona Vintage
Corona Vintage uses worn and washed-out materials to evoke a nostalgic sense of wonder.
Retro signs of weathered wood and rusted tin advertise destinations off the beaten path while celebrating the imagery of Corona's past.
Corona Festival
From Electric Beach to Spring Awakening, this freewheeling trend finds inspiration in the year's hottest music festivals.
Kaleidoscopic patterns saturated with vibrant blues and yellows provide a sense of exulting liberation, whether celebrating all day or dancing into the night.
Corona Sport
Drawing from various popular sports, including boxing, soccer, and football, the Corona Sport collection builds on classic Corona licensing elements such as color blocking and stripes.
The trend brings a more modern aesthetic to athletic gear, with a focus on sports-related apparel.
Consumer Product Licensing
Each of the collections contains a special Extending the Artwork section, in which partners are encouraged to use our creative assets to develop their own designs. In many cases, additional designs can be created by changing colors or reformatting and separating certain elements.
You can find Corona licensed products based on our collections at Tee Luv. For our next project with the brand, we focused on packaging design.