NFLPA
Brand Style Guide | Packaging | Illustration | Product Vision Pitch Decks
Our relationship with the NFLPA goes back to 2014 and includes various projects from global brand style guides and marketing materials to player illustrations and product vision pitch decks.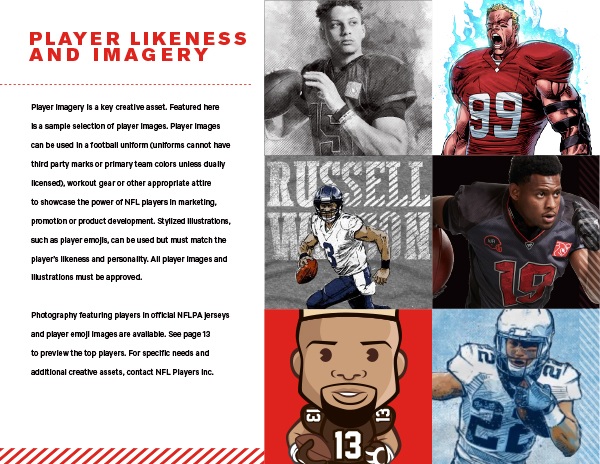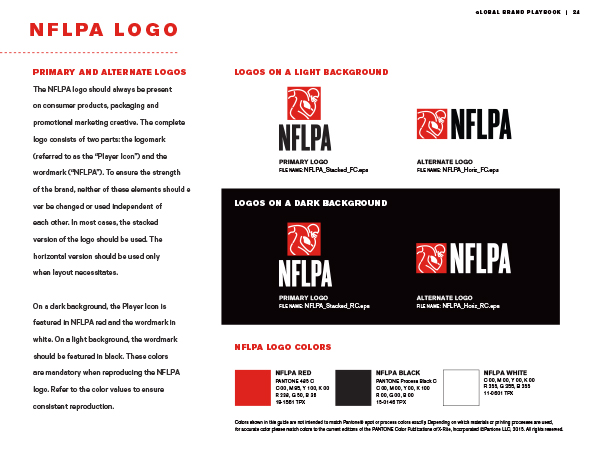 Global Brand Style Guide
In addition to our various product vision pitch decks, the NFLPA charged us with creating a brand style guide for their international partners. The guide was developed as an extension of their social media design aesthetic.
In addition to rules for product and packaging, we also included tutorials to help educate partners unfamiliar with the sport's terminology.
Brand Style Guide Hangtags and Labels
Keeping the NFLPA logo at the forefront, we developed a hangtag and label system.
Our guide also provided instruction for creating jock tags.
In 2015, we were asked to create five player emojis for a social media presentation. We based our designs on each player's facial characteristics, also using the player's number and team color. The character art was so well received that it became an ongoing project, with much of the art used for licensed products. We've now created hundreds of player emojis, which include many of the NFL's greatest stars.
Emojis on Product
Licensing partners, like Fanatics, Inc. and ISlide, embraced the emojis and used our illustrations on a number of product lines. These partnerships continue to grow as we supply a new batch of player emojis each year.
Product Vision Pitch Decks
Working with the NFLPA over the years, we've had the opportunity to create a number of product vision pitch decks. One of our first had us envision a potential line of itty bittys® for Hallmark.
Armed with our original renderings, the NFLPA pitched the idea and landed a multi-year partnership.
Merging the Unexpected
To bring young fans closer to their favorite players, we developed a pitch that combined the NFLPA with Nerf products. Our presentation included various product concepts as well as a full retail and marketing vision for Target.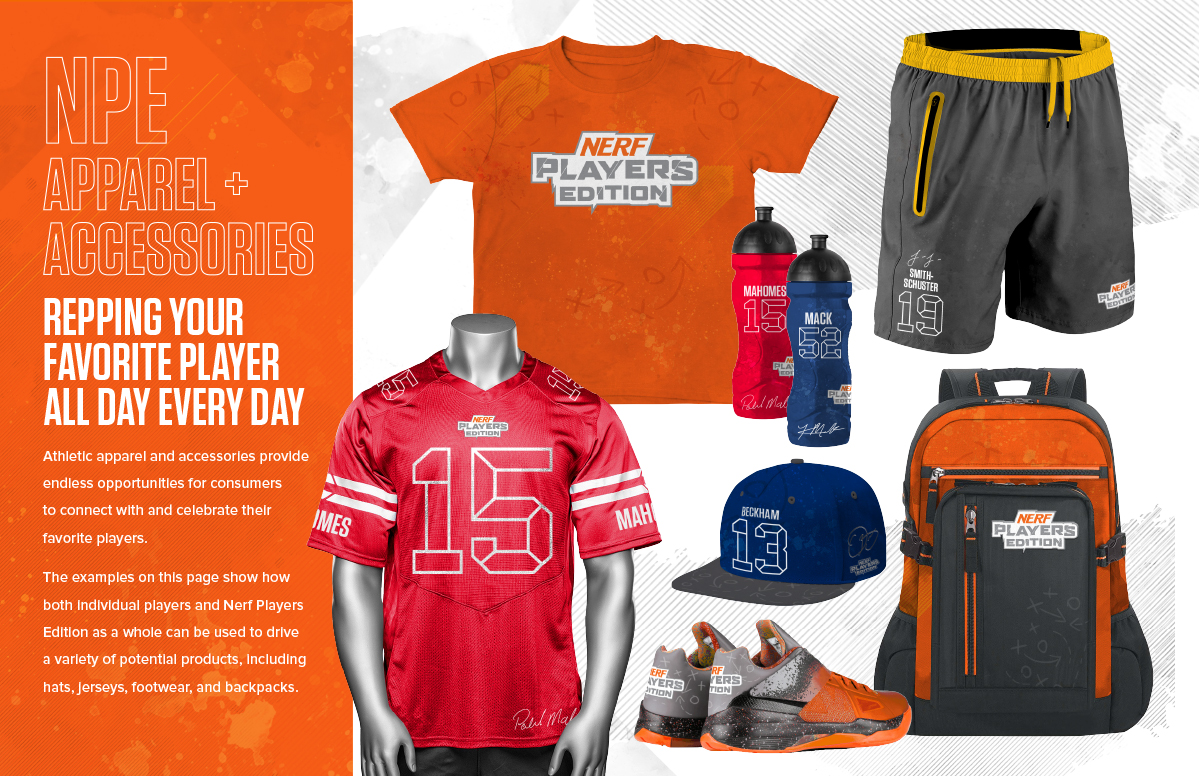 Extending the Game
Another project included a product vision presentation for Lego, pitching a new line of Lego Miniplayers. This deck showcased a number of product applications as well as potential product extensions, including video games and social media partnerships.
Other sports licensing projects include our guides for the NFL London Games.
For a broader view of what our branding and brand extension design agency has to offer, visit our Services page.