Winnebago
Brand Vision | Brand Positioning | Creative Asset Collection | Packaging System | Product Vision
StyleWorks Creative teamed up with Winnebago and their licensing agency, Brandgenuity, to help execute a two-phrase creative strategy for consumer product licensing. The first phase had us developing new brand positioning, product concepts, and a packaging system; for the second, we created two theme art collections.
Brand Positioning
For consumer products, we opted for the original, flat-color Winnebago logos versus the sleek, newer logos being used on the actual vehicles. We also developed brand positioning, including an official brand pledge, a brand logo stamp, and a tagline.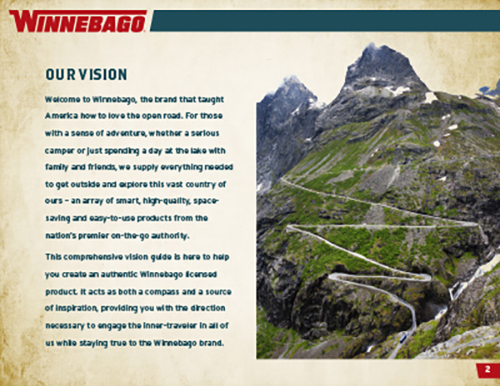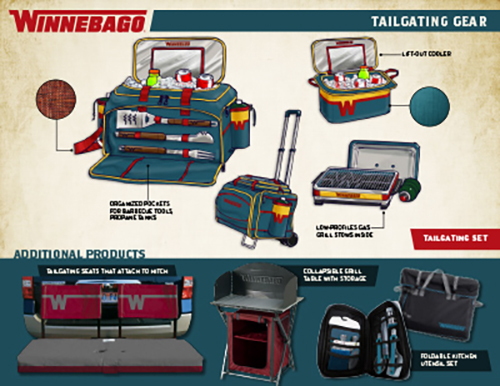 Colors and Textures
Our style guide included a core brand color palette based on the new Winnebago Brave motor home to be released the following fall.
After consulting our trend resource, WGSN, we decided to create this surface inspiration page to showcase a mix of both natural and techy substrates.
Product Development
Brangenuity challenged us to dream up product concepts that would be wholly unique to the Winnebago brand, capturing the brand's utilitarian, all-in-one spirit.
Many of our product concepts were modular, including compartments for easy storage. We also made a handy checklist to keep the brand extension in line with the actual vehicles.
Theme Art Collections
For the second phase of the program, we developed a retro-style graphic collection, breaking it up into two themes. The first we called Groovy Wheels, combining playful editorial sayings with mod, period graphics. The second, called Road Trip, evoked a carefree, off-the-grid lifestyle inspired by the openness of the American landscape. Both could be applied to a variety of products, including soft goods, apparel and accessories, home décor, and other printable items.
Other projects for popular American automakers include our brand vision, style guide, and packaging system for Jeep.
To learn more about what our branding and brand extension design agency has to offer, visit our Services page.